I am a dad to two teenage boys.  I travel frequently even if it means just getting away for a weekend. Music is the the thing that really makes me happy though, I can't play at all, but I love live music. I average about ninety concerts a year and attended over a hundred in 2016 and 2017 respectively. I run a fan group for the band We Are Scientists. My current motto is, "Live the most interesting life of anyone you know." Rock stars sing songs from my shoulders and I am a character in books, so I think I'm doing OK with that.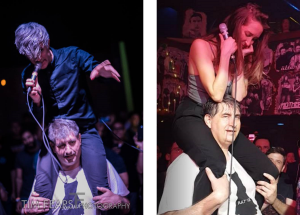 I have worked in Quality Assurance for almost 20 years. Usability has always been a primary focus. I test with a customer focus. There is only so much you can do by the time a project gets to QA, especially in the early years of my career when everything was waterfall. UX Designer wasn't an option then, there was no career path. I am fortunate now to have a role that combines both QA and UX.
I've been told by many that I have a great deal of empathy and understand users well which allows me to see an application or website like they would and identify potential pain points. Since moving into my new role I have become immersed in the world of UX. I've spent many hours reading articles, watching videos, going to meetups, getting involved in the local UX community. I started CHUX: The Chandler UX + Design group on Facebook. I have also become active on a UX/UI Design Feedback group where I regularly provide detailed constructive feedback where that feedback has been well received. I love combining my natural instincts with what I have learned about user psychology and UX principals.